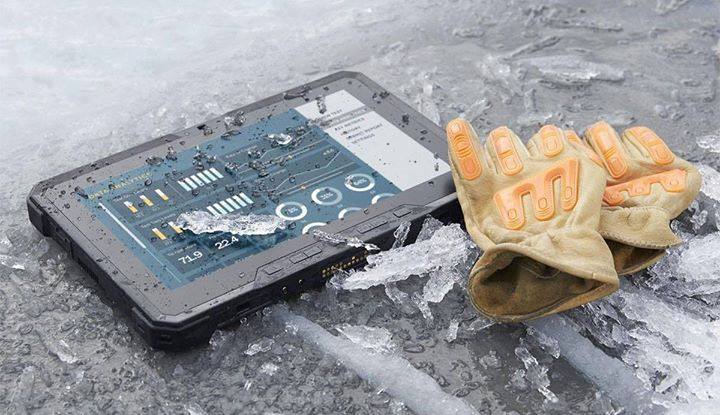 Why You need Rugged Devices
Monday, 27 September 2021

0

4423

0
Rugged Windows Tablet or Industrial Computer not only extend office efficiency to the field, but another benefit of rugged tablets and handhelds is that they bring low total-cost-of-ownership (TCO) and fast ROI to your bottom line.
For Handheld, ruggedness runs deep. It's what we stand for — our core value. From a user perspective, ruggedness describes a computer's ability to operate in any type of exposed working condition, not just for a single use, but for three to five years of its life expectancy. Depending upon the type of work performed, however, what is rugged for one user may not be rugged for another. Ruggedness is defined by testing environmental specifications. The three most common tests are for temperature range, military standards (MIL-STD) and IP rating.
Temperature

Temperature specifications define a device's operational temperature range. Handheld purposely targets a broad range of temperature: We offer products that can operate from -40 C up to 60 C.
MIL-STD TESTING METHODS
MIL-STD-810, Environmental Engineering Considerations and Laboratory Tests, is a United States Military Standard that emphasizes tailoring an equipment's environmental design and test limits to the conditions that it will experience throughout its service life, and establishing chamber test methods that replicate the effects of environments on the equipment rather than imitating the environments themselves. Although prepared specifically for military applications, the standard is often used for commercial products as well.
The standard's guidance and test methods are intended to:
define environmental stress sequences, durations, and levels of equipment life cycles;
be used to develop analysis and test criteria tailored to the equipment and its environmental life cycle;
valuate equipment's performance when exposed to a life cycle of environmental stresses
identify deficiencies, shortcomings, and defects in equipment design, materials, manufacturing processes, packaging techniques, and maintenance methods; and
demonstrate compliance with contractual requirements.
The document revision as of 2012 is MIL-STD-810G which was issued on October 31, 2008. It superseded MIL-STD-810F released on January 1, 2000 which was last updated on May 5, 2003.
IP ratings
IP is the name of the standard that was drawn up by the International Electrotechnical Commission (IEC) to determine how resistant an electrical device is to fresh water and common raw materials – like dirt, dust and sand.
The first digit after IP is the rating the IEC assigned a unit for its resistance to solids. In this case, it's six – which means no "harmful" dust or dirt seeped into the unit after being in direct contact with the matter eight-hours.
Solid Protection
IP Code
Protection
1
Protection from contact with any large surface of the body, such as the back of a hand, but no protection against deliberate contact with a body part
2
Protection from fingers or similar objects
3
Protection from tools, thick wires or similar objects
4
Protection from most wires, screws or similar objects
5
Partial protection from contact with harmful dust
6
Protection from contact with harmful dust

Moisture Protection
IP Code
Protection
1
Protection against vertically dripping water
2
Protection against vertically dripping water when device is tilted at an angle up to 15 degrees
3
Protection against direct sprays of water when device is tilted at an angle up to 60 degrees
4
Protection from sprays and splashing of water in all directions.
5
Protection from low-pressure water projected from a nozzle with a 6.3mm diameter opening in any direction
6
Protection from water projected in powerful jets from a nozzle with a 12.5mm diameter opening in any direction
7
Protected from immersion in water with a depth of up to 1 meter (or 3.3 feet) for up to 30 mins
8
Protected from immersion in water with a depth of more than 1 meter (manufacturer must specify exact depth)



Next we have the water resistance rating.
There are two leading ratings at present – seven and eight, with the former meaning that the device can be submerged in up to one meter of fresh water for half an hour, and the latter up to 1.5 meters for half an hour.
And that's how IP ratings are formed.

To recap: IP67 means the unit can be dropped into a body of water up to a meter deep for half an hour, while IP68 guarantees protection in water up to 30 meters deep for the same period of time. Both are resistant to dust