What is Rugged Windows Tablet
Monday, 27 September 2021

1

5113

0
What is

Rugged Windows Tablet







Rugged window tablets are an inherent module of database collection activities that take place in the entirety of an assortment of organizations and industries. This kind of advancement that is brought in the field of tablet technology enables to seek solutions pertaining to any challenge irrespective of whether it touches the aspect of the ease with which product can be used, its form, environmental factor or durability. Rugged means the one which can very easily survive in various environmental conditions like dirt, dust, heat, cold, mud, and damp conditions. Thus, rugged window tablets are equipped with tight seals on fans, speakers, ports, and cracks. It will prevent entry of any foreign material inside it. Rugged also means that the device should altogether outlast frequent drops as well as vibrations. These rugged windows tablets are subjected to various tests to prove to the potential users that they are field-ready. These rugged window tablets are waterproof tablets and thus very popular.
Design principle
Rugged Windows tablets offer certain features and are equipped with the capabilities which are simply not possessed by other commercial associates.
Some of the features are-
Displays which are readable in sunlight

Touchscreens

Display sizes are multiple

Switchable batteries

Memory capacity is large

Storage capacity is good

Intel ISeries power of processing

Waterproof Dustproof

Efficient integrated scanner

Wifi (Internal) 4G GPS

DC power converting efficiency

Diversified mounting choices

Comes in carry cases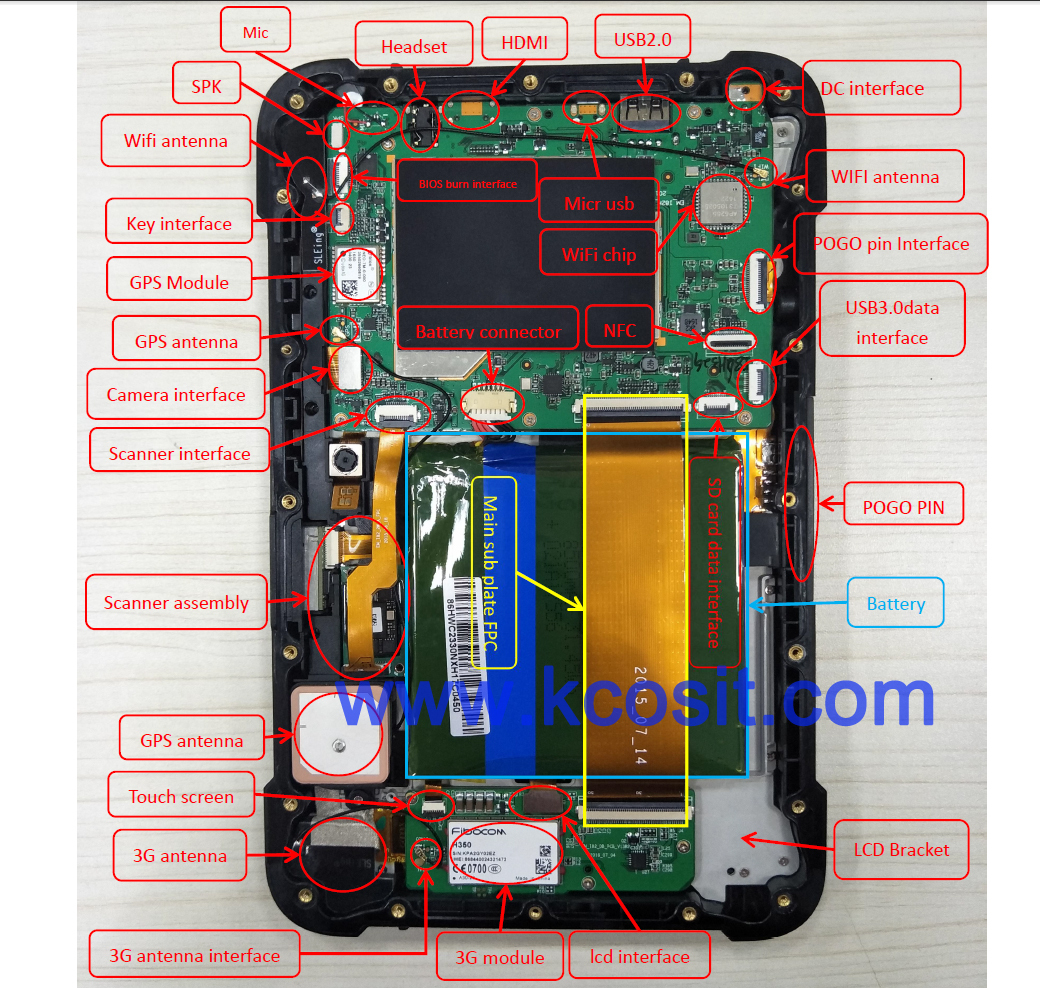 More about rugged windows tablets
Rugged Windows tablets are available in Windows 7,8 as well as 10 operating systems. They are even available in Android. Display sizes vary from 7" to 12". They have effective display features. Thus, they can be viewed and even used outdoors irrespective of whether sunlight is bright or dim. It can be used in vehicles and even supports database collection related activities. All of them support touchscreens facilities that are long lasting and projected by multi-touch capacitive. It supports wireless communications like Bluetooth, GPS, 4G and 802.11 wireless.
It can be very easily mounted on forklift with the help of associated dock. It can be powered by DC power converter. The common I/O ports that are offered by it are USB, docking port, headphone, Ethernet, mic, HDMI. Docks come with I/O ports that allow multiple connections. It makes removal and insertion easy for the windows tablets. It has expandable memory and efficient solid-storage capacity. They come with efficient processors like Intel Bay-Trail. They can withstand enormous shock and significant vibration. They are sealed as well as protected against water and dust. They meet IP67 levels.


Handheld Mobile Computers
These computers combine the benefits of consumer PDAs as well as industry-based mobile computers in the form of a single package of the rugged computer. They are quite light, small in size and thus easy to carry around. They are efficient in functioning, equipped with a tactical keyboard and connectivity is quite good. They are easy to use and very easy to support.
MIL-STD Testing techniques
MIL-STD technique is the standards that are considered for environmental engineering. Certain test methods are involved in it. An object is subjected to test limits to determine its capability to sustain in its lifetime. Environmental effects get reflected on the material in these test methods. This way, one can get an idea of how safe and durable the object will be when subjected to a real-life test in the real-life environmental conditions.

IP67 Enclosures – Up to 1 m safeguards oppose to Immersion | Time duration is half an hour or can be more |Measurement is done from object bottom- At least 1 m depth of immersion. From object top, it should be at least 15 cm.


Products subjected to Waterproof technique-
Electronic elements
Automotive based elements
Military components
Mobiles
Laptops
Tablets
Watches
Cameras
Gauges
Speakers
Radios
Who will use rugged windows tablets?
Demands for rugged tablets is increasing day by day. It has reached many industries and thus it is called as industrial tablet. It is capable enough to meet the demands of various industries. It brings the uninterrupted power of computing to the far stretches of an industry's operation or an area of service. It caters to each and every need and some of the functions it performs are inspection, processing service calls, taking work orders, picking, putting away and dock management.
Some of the industries where it is used-
Warehousing

Manufacturing industries

Engineering field

Field service

Construction based industries

Public safety sector

Mining

Military

Oil and Gas

Freight

Distribution industry

Can be even used in hazardous locations
Rugged Windows tablet can be very well used in hazardous environments. They come with intrinsic safety. It helps during live use and in rugged window tablet failure circumstances. It can be used in various areas of hazardous situations like-
Inspections of oil and gas infrastructure

At mining areas to begin asset management

In petrochemical manufacturing industries mainly used to bring improvement related to safety and integrity of the plant.
Rugged window tablets are efficiently productive
Entry-level
They are efficient to run in all lines of businesses. They are value for money. They are very easy to set up. Hardly any effort will be required to manage them. Functionality resembles that of the computer. They require very little support from IT. They come with rugged table window case to keep the device safe.

Value-performance
They are completely rugged as well as sealed in a window-based. They are known for high performance and are definitely value for money. These rugged tablets can take the business to the whole new level. They are highly efficient to track and identify various assets through the supply chain. A 2D barcode scanner is a tool that makes it a high performer.

Mid-performance
These mid-performance rugged window tablets are mid-priced but have brought revolution when it comes to productivity. They can very well strengthen the mobile-based workforce. They decrease the downtime and at the same time increase the productivity. Therefore, it streamlines related operations which can directly or indirectly increase the productivity and maintain low final-cost ownership.

High-performance
They come with barcode scanner as well as different mounting systems. They are manufactured to provide utmost productivity even in very harsh work conditions and weathers. It powers through the entire working day and is effective enough to keep up with everything. This is why it is very high in performance and yields very high productivity. They allow the mobile workforce to be highly productive and it really doesn't matter where they are. They help mobiles to remain connected with radios and wireless networks.